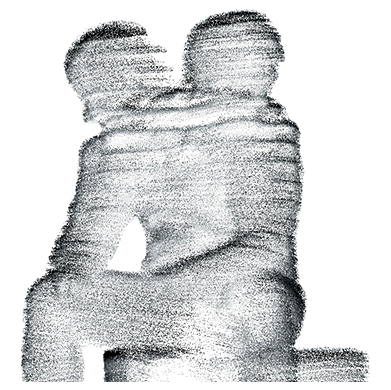 Ji Zhang, Ph.D.
Systems Scientist | 3D Artist
Research: Robot Navigation, Perception and Localization,
Lidar Mapping, Computer Vision
Address: 5000 Forbes Ave, NSH #2215
Pittsburgh, PA, 15213
Email: zhangji@cmu.edu
My recent work has been on enabling lightweight aerial vehicles to fly in complex environments avoiding obstacles at high speeds. Video above shows our latest flight result.
I am founder and previous chief scientist of Kaarta, a CMU spin-off commercializing 3D mapping technologies leveraging range, vision, and inertial sensing as my PhD work.
Curriculum Vitae (CV).
Selected Publications
J. Zhang and S. Singh. Laser-visual-inertial Odometry and Mapping with High Robustness and Low Drift. Journal of Field Robotics. vol. 35, no. 8, pp. 1242–1264, 2018. (PDF) (Video)
J. Zhang and S. Singh. Visual-lidar Odometry and Mapping: Low-drift, Robust, and Fast. IEEE Intl. Conf. on Robotics and Automation (ICRA). Seattle, WA, May 2015. (PDF) (Video)
J. Zhang, M. Kaess, and S. Singh. Real-time Depth Enhanced Monocular Odometry. IEEE/RSJ Intl. Conf. on Intelligent Robots and Systems (IROS). Chicago, IL, Sept. 2014. (PDF) (Video)
J. Zhang and S. Singh. LOAM: Lidar Odometry and Mapping in Real-time. Robotics: Science and Systems Conference (RSS). Berkeley, CA, July 2014. (PDF) (Video)
Other Publications
J. Zhang, C. Hu, R. Gupta Chadha, and S. Singh. Falco: Fast Likelihood-based Collision Avoidance with Extension to Human-guided Navigation. Journal of Field Robotics. vol. 37, no. 8, pp. 1300–1313, 2020. (PDF) (Video)
J. Zhang, C. Hu, R. Gupta Chadha, and S. Singh. Maximum Likelihood Path Planning for Fast Aerial Maneuvers and Collision Avoidance. IEEE/RSJ Intl. Conf. on Intelligent Robots and Systems (IROS). Macau, China, Nov. 2019. (PDF) (Video)
J. Zhang, R. Gupta Chadha, V. Velivela, and S. Singh. P-CAL: Pre-computed Alternative Lanes for Aggressive Aerial Collision Avoidance. The 12th Intl. Conf. on Field and Service Robotics (FSR). Tokyo, Japan, Aug. 2019. (PDF) (Video)
J. Zhang, R. Gupta Chadha, V. Velivela, and S. Singh. P-CAP: Pre-computed Alternative Paths to Enable Aggressive Aerial Maneuvers in Cluttered Environments. IEEE/RSJ Intl. Conf. on Intelligent Robots and Systems (IROS). Madrid, Spain, Oct. 2018. (PDF) (Video)
J. Zhang and S. Singh. Aerial and Ground-based Collaborative Mapping: An Experimental Study. The 11th Intl. Conf. on Field and Service Robotics (FSR). Zurich, Switzerland, Sept. 2017. (PDF) (Video)
J. Zhang and S. Singh. Enabling Aggressive Motion Estimation at Low-drift and Accurate Mapping in Real-time. IEEE Intl. Conf. on Robotics and Automation (ICRA). Singapore, May 2017. (PDF) (Video)
J. Zhang and S. Singh. Low-drift and Real-time Lidar Odometry and Mapping. Autonomous Robots. vol. 41, no. 2, pp. 401–416, 2017. (PDF) (Video)
J. Zhang, M. Kaess, and S. Singh. A Real-time Method for Depth Enhanced Visual Odometry. Autonomous Robots. vol. 41, no. 1, pp. 31–43, 2017. (PDF) (Video)
J. Zhang, M. Kaess, and S. Singh. On Degeneracy of Optimization-based State Estimation Problems. IEEE Intl. Conf. on Robotics and Automation (ICRA). Stockholm, Sweden, May 2016. (PDF)
J. Zhang and S. Singh. Visual-Inertial Combined Odometry System for Aerial Vehicles. Journal of Field Robotics. vol. 32, no. 8, pp. 1043–1055, 2015. (PDF) (Video)
J. Zhang, A. Chambers, S.Maeta, M. Bergerman, and S. Singh. 3D Perception for Accurate Row Following: Methodology and Results. IEEE/RSJ Intl. Conf. on Intelligent Robots and Systems (IROS). Tokyo, Japan, Nov. 2013. (PDF) (Video)
Links
Robotics Post-Immersionism | Research Videos | 3D Arts | Photography